Toyota Yaris Owner's Manual
---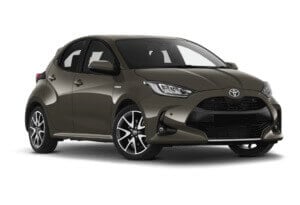 About The Yaris
Since the year 1999, Toyota has been producing the Yaris as a subcompact car available as a hatchback or a sedan.
It took over from the Starlet and Tercel, condensing both lines down to one model to cut down on costs.
These owner's manual PDFs contain important information about all aspects of driving and owning your car, including how to use the features, what to do in emergency situations, and more.
The car also goes by 2 other names, although the same car you can find it in different markets around the world as the Echo or Platz.
Since 2015 the Yaris model is actually a re-badged version of the Mazda2 developed by Mazda.
The most recent version of the car has an optional 4 wheel drive platform and 5 doors as standard apart from the sport version called the GR.
This GR performance version of the tiny car features a turbocharged engine and a more aggressive styling of the bodywork.
Aside from the performance trim you can also choose from Design, Dynamic, Excel, Icon or Launch Edition when ordering the Toyota Yaris new.
This little Toyota achieves large volumes of sales with sales over a quarter of a million units in Europe being quite common many years.
By the end of 2020, almost 9 million Toyota Yaris models have been sold across the world.
During that year of 2020, the Japanese automaker began production of a subcompact crossover SUV called the Yaris Cross.
It is being produced at the same plants as the standard model and shares the same wheelbase with the European model with 30mm increased clearance.
FAQ's
Q: How do you start a Toyota Yaris manual?
A: To prevent any accidents from happening Toyota has fitted a safety system on the newer Yaris models. Be sure to check that the manual shifter is in the neutral position then depress the clutch fully to start the engine.
---
Q: How do I change the time on my Toyota Yaris?
A: The method to change the clock varies by year and generation so it's best to check the owner's manual for your year of Yaris. You can find the owner's manuals for most of the years that the Yaris was made and chances are your one will be on this page.