Volkswagen Beetle Owner's Manual
---
You can find 21 different owner's manuals for the Volkswagen Beetle on this page that are in the PDF format.
Looking For Mechanical Information?
An owner's manual is usually packed with guides on how to operate the car safely and how to maintain it.
If you require mechanical information (for fixing the car yourself for example) then you may need a workshop, service or repair manual instead.
Volkswagen Beetle Service Manuals »

Yearly Beetle Owner's Manuals
The years available stretch from 2007 through to 2019 and to view the manual you just click the name underneath.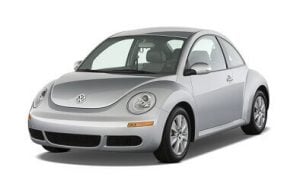 About The Beetle
The Volkswagen Beetle has had a long life starting in 1938 when the need for a "people's car" led to its design.
It was originally known as the "Type 1" and was nicknamed the "Beetle" or "Bug" in various countries around the world until eventually, Volkswagen used it officially.
The air-cooled engine was in the rear of the car powering the rear wheels and inside there was seating for up to 5 occupants.
This model ran through to the end of the Century, being manufactured in developing countries such as Mexico that required low-cost new cars.
In 1974 Volkswagen launched the Golf model as its replacement in more developed markets such as Europe.
Its replacement had its water-cooled engine in the front powering the front wheels, the complete opposite to the Beetle but the way the auto industry was moving.
In 1997 Volkswagen embraced the nostalgia drive that was occurring with many automobile manufacturers and launched a modern version of the Beetle.
They took the latest Golf platform and added a body that was inspired by the original design with modern safety and comfort features inside of it.
This new Beetle was offered with many of the same engines that can be found in the Golf as they shared a platform.
The current model of the Beetle has undergone some changes, but it still retains many of the original features that made it so popular in the past.
Learn more about this amazing vehicle with our list of Volkswagen Beetle owner's manuals sorted by model year.
In 2019 the revived Beetle model was official discontinued as sales were reducing year-on-year.