Volkswagen CC Owner's Manual
---
You can find 11 different owner's manuals for the Volkswagen CC on this page that are in the PDF format.
Yearly CC Owner's Manuals
The years available stretch from 2008 through to 2018 and to view the manual you just click the name underneath.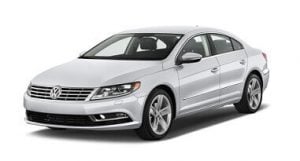 About The CC
When the original Volkswagen CC was launched in 2008 it was referred to as the Passat CC.
Both models are very similar and the CC is essentially an offshoot using the same platform and a very similar body.
The main difference in the CC version is the lower sweeping roofline and coupe styling, making it more like an executive model.
Unlike a normal coupe, this car has 4-doors and the model is an inch longer than the standard Passat with less ground clearance too.
It is described by motoring publications as having a harsh ride due to the firmer sports suspension, great for handling but lacking slightly for comfort.
The CC has less room in the rear seats for occupants and the rear trunk for cargo due to its sleek shape.
You could choose from a wide variety of engines, starting with a twincharger (turbocharger and supercharger) all the way through to the 3.6-liter VR6 found on many high-end Volkswagen models.
Transmission options included an automatic, a manual or an electronically controlled dual-clutch with fast gear changes – you could even upgrade to a four-wheel-drive if desired.
For those who are new to this model or just want more information on how it works, Volkswagen created these CC owner's manuals that will help you understand all there is to know about owning the car.
For the 2012 model year, the Volkswagen CC was given a facelift that added many new safety features including:
Adaptive suspension
Bi-Xenon headlights
Collision detection all around the car
Parking assist tools
When the CC was discontinued in 2017 it was replaced by the Arteon as the company's new executive model.