Volkswagen Touran Owner's Manual
---
You can find 7 different owner's manuals for the Volkswagen Touran on this page that are in the PDF format.
Yearly Touran Owner's Manuals
The years available stretch from 2016 through to 2022 and to view the manual you just click the name underneath.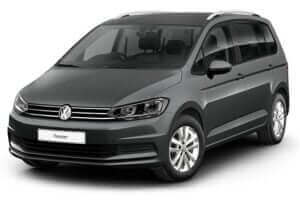 About The Volkswagen Touran
Back in 2003, the Volkswagen Touran began its production as the company's flagship compact MPV model.
Check out the owner's manuals on this page for more information on how to use this vehicle.
It was at the tail end of the popularity of people carrier cars and just before consumer demands switched to crossover SUVs.
Underneath the car was the same chassis used by Volkswagen's massively popular Golf model that was already tried and tested.
Inside the Touran are 7-seats and many features to help keep the occupants comfortable (important in a people carr/minivan).
Offering a wide range of engines from 1.2-liter gasoline through to a 2-liter turbodiesel helped the car appeal across various budgets and regions around the world.
In 2015 the second-generation Volkswagen Touran was released and this model had many more technological additions such as advanced driver-aids.
Now occupants were able to connect the car to their Apple and Android devices and the car consumed roughly 19% less fuel than the old one.
As of 2021, there is only one engine on offer but customers can choose between various levels of trim to customize their Touran.
The trims you can choose from in the compact MPV Volkswagen Touran include:
R Line
S
SE
SE Family
SEL