BMW 5 Series (incl. M5) Owner's Manual
---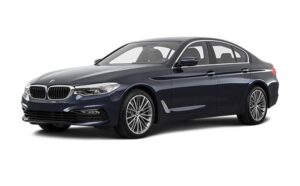 About The 5 Series
To replace the "New Class" range that started production in the early 1960's the BMW 5 Series was brought in.
It entered production in 1972 and has gone through seven generations of redesign with the most recent coming into production in 2016.
It's an executive car built in Germany and was available only as a sedan until the early 1990's when an estate version was introduced.
In order to get the most out of your new 5-Series, take advantage of all that it can offer by reading through the owner's manual from cover to cover.
The smaller more popular version of the 5 Series is the 3 Series which makes up a third of the German car manufacturers' sales.
A wide variety of engines, transmissions and trims have been made available for the 5 Series over the years, including modern options such as:
EfficientDynamics SE
M Sport
M Sport Edition
M5 35 Jahre Edition
M5 Competition
SE
Performance trims are kept to the dedicated M5 nameplate so that customers know that the car is a big improvement (in terms of performance) over the original.
The M5 Performance Version
12 years after the original 5 Series rolled off the production line a dedicated high-performance trim was added to the options called the M5.
They took the engine from a BMW M1 sports car and put it into the 5 Series and much to customers' delight the car was a massive hit.
Along with the increase in engine power the M5 has always featured improved brakes, suspension and handling with an optimized body for better aerodynamics.
The most recent version of the M5 is only available in 4 wheel drive with a twin-turbo V8 and an 8-speed semi-automatic gearbox.