BMW 7 Series Owner's Manual
---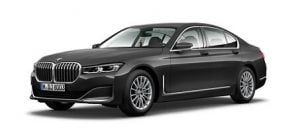 About The 7 Series
Long seen as the flagship model in BMW's long-running sedan series, the BMW 7 Series has been around for a long time and continues to impress wherever it goes. It was first launched back in 1977 under the E23 model number, and has since spawned 6 further generations, being as we are now in the seventh generation of the series, just released in 2022 for the 2023 model year.
Back in 1977, the E23 model was released as a replacement for the older E3 sedans, also known as the BMW New Six. The first generation lasted for about a decade, with subsequent generations lasting for shorter periods before being switched out for an updated version. Earlier versions of the car used straight-six or V12 engines, before evolving into the more cutting-edge 3-liter 375-hp turbocharged inline-six that is used in the latest design.
The latest-generation models are further assisted by a 48-volt hybrid system, and an even larger 4.4-liter V8 engine delivering up to 536hp is available on the 760i xDrive models (as opposed to the standard 740i), allowing it to accelerate from 0 to 60mph in just 4.2 seconds.
Much like the Mercedes S-Class, the BMW 7 Series has long been a vehicle in which the company likes to sample and unveil its latest and most special technologies and features. The third-generation models, for instance, were among the first to come with satellite navigation capabilities when they were launched back in 1995.
The latest version continues that tradition, acting as the real pinnacle offering in the wider BMW lineup. The interiors are spacious, with options for reclining rear seats, massage function, front and rear wireless charging pads, and much more.
An all-electric version of the new BMW 7 Series was also launched alongside the latest model, known as the i7, highlighting the German giant's continued moves towards greater elect