Chevrolet Bolt Owner's Manual
---
You can find 7 different owner's manuals for the Chevrolet Bolt on this page that are in the PDF format.
Yearly Bolt Owner's Manuals
The years available stretch from 2017 through to 2023 and to view the manual you just click the name underneath.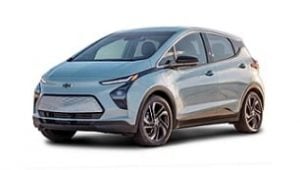 About The Bolt
The Chevrolet Bolt, also called the Bolt EV, is a fully-electric subcompact hatchback that has been manufactured by the American manufacturer since 2017.
It began its life during development by General Motors Korea in 2012. Chevy then revealed the concept for the first time at the 2015 North American International Auto Show.
It features the same 5-door layout found in most hatchback models, which is built on top of the BEV II platform. It is driven by a permanent magnet motor that is capable of delivering 149 kW. This single front motor powers a front-wheel drivetrain. It is very unlikely given the low price point of the model for it to ever see a dual motor or all-wheel drive system in the future.
The estimated range for the model has changed as Chevrolet has released various updates over the years. What began with an estimated range of 238 miles has now improved to just over 259 miles for its current iteration.
Charging is done through either a 120 V or 240 V AC. Fast charging is also possible through combination DC outlets, which reportedly adds 100 miles of range within just 30 minutes.
The biggest rival for the model is the Nissan Leaf as both models are some of the most affordable electric vehicles on the market currently. Other competition comes from within the same roster, which includes the likes of the Chevy Volt and the smaller Bolt EUV.
Typical for most Chevrolet models, trim levels consist of the base 1LT and the upper-tier 2LT.
The Bolt was met with fairly unanimous praise, winning various awards the year of its release. Among the most notable of these include the 2017 Motor Trend Car of the Year.
One of the biggest draw factors for the model is the fact that it represents the most affordable fully-electric car available in the United States.