Chevrolet Cruze Owner's Manual
---
You can find 10 different owner's manuals for the Chevrolet Cruze on this page that are in the PDF format.
Looking For Mechanical Information?
An owner's manual is usually packed with guides on how to operate the car safely and how to maintain it.
If you require mechanical information (for fixing the car yourself for example) then you may need a workshop, service or repair manual instead.
Chevrolet Cruze Service Manuals »

Yearly Cruze Owner's Manuals
The years available stretch from 2011 through to 2019 and to view the manual you just click the name underneath.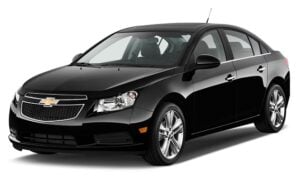 About The Cruze
Previously, the Chevrolet Cruze badge was used to sell a version of the Suzuki Ignis subcompact hatchback car between 2001 and 2008 in Japan.
The second use of the Cruze name by Chevrolet was for a compact car that was produced in-house from 2008 onward.
If you browse through the owner manual's on this page you will see that they are for the in-house produced version of the car.
These manuals cover all aspects of your vehicle's design and operation.
You will learn how to operate your vehicle safely with airbags, anti-lock brakes, stability control and more.
The owner's manuals are designed for you as an owner who has a responsibility to understand the vehicle fully before using it.
Underneath the original Cruze built by Chevrolet, you will find the platform used by the Volt and Buick Verano.
Production took place in 11 countries with a large range of engines, transmissions and trim choices to help it sell across all regions.
This model was also launched initially as the Daewoo Lacetti Premiere for the European market until the brand was phased out during 2011.
During the 2000s the car was also sold by Suzuki as the Forenza in the US market.
Among these trim choices are the following options when you buy the car new:
Diesel
Eco
L
Limited Eco
Limited L
Limited LS
Limited LT
Limited LTZ
LS
LT
LTZ
Premier
As the car entered its second generation of design the engine and transmission choices were much more standardized with buyers able to choose a 1.4, a 1.5 or a 1.6 litre engine.
A Chinese version was adapted for that market and was slightly smaller with a turbocharged engine option for that region.
The Chevrolet Cruze is now discontinued in North America and South Korea as of 2019 with other regions possibly following the same path.