Chevrolet Volt Owner's Manual
---
You can find 10 different owner's manuals for the Chevrolet Volt on this page that are in the PDF format.
Yearly Volt Owner's Manuals
The years available stretch from 2011 through to 2020 and to view the manual you just click the name underneath.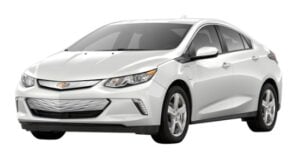 About The Volt
The Chevrolet Volt is an electric car that is sold under different brands around the world by General Motors.
It is an electric vehicle that uses a battery pack for power, meaning it does not need gasoline, like traditional vehicles.
The Chevy Volt has been praised as one of the most fuel-efficient cars on the market today with an EPA rating of 98 MPGe or miles per gallon equivalent.
If you are considering purchasing a new or used model and want to learn more about this type of vehicle before making your purchase then check out the range of owner's manuals to the left.
You can also find this car selling as the Holden Volt, the Buick Velite 5, the Vauxhall Ampera in the UK and the Opel Ampera in the rest of Europe.
Production of this model began back in 2011 and by December 2018 the car won the title of the best-selling plug-in electric car only for it to be taken away by the Tesla Model 3 just over a year later.
To fight the popularity of the Toyota Prius the Volt was introduced across as many regions as possible and thanks to its more "family car" configuration it eventually won over buyers.
This Volt operates as an electric car when it has a battery charge (provided by plugging it into an electricity mains point) until the battery is near empty where a small internal-combustion engine takes over.
The original 2011 version could achieve 38 miles on electricity alone but the updated batteries included with the second generation models extended that to 53 miles.
Operating the Volt's new plug-in electric extended range system can prove confusing to drivers who are used to traditional vehicles so the owner's manual on this page is hugely important.
Choose your year of manual on the left (or above if viewing on mobile) to view, download or print the Chevrolet Volt manual you need.