Chevrolet Spark Owner Manual's
---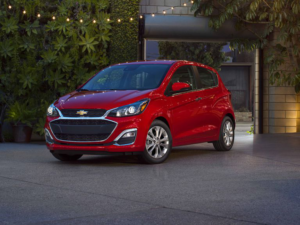 You can find 9 different owner's manuals for the Chevrolet Spark on this page that are in the PDF format.
The years available stretch from 2013 through to 2021 and to view the manual you just click the name to the left (or above if viewing by mobile).
About The Chevrolet Spark
Originally marketed as the Daewoo Matiz, the Chevrolet Spark is a subcompact hatchback ideal for driving around the city.
The car was built under the Daewoo brand from the late 1990's until General Motors took over and switched the model to sell under their own Chevrolet brand in stages.
An all-electric version was released in selected markets called the Spark EV in an attempt to satisfy various government requirements to push for the change from fuel-driven engines.
In 2016 Chevrolet switched to pushing their flagship electric vehicle the Bolt which was much superior and had much greater range.
The original Matiz model came with the choice of 3 tiny engines: a 0.8 litre, a 1 litre or a Chinese market only 1.2 litre option mated to a 3 speed automatic or 5-speed manual gearbox.
Over the years and redesigns of the car, the engine sizes have stayed roughly the same though a diesel option was added and a CVT gearbox too.
Safety for occupants has never been a big selling point of the Matiz/Spark with the car earning an average of 3 out of 5 stars through its life until the most recent version gaining an additional star.
The most recent version also has the option of a 1.4 litre engine for the first time, mobile device connectivity and 4G WiFi-hot-spot capability.
Chevrolet Spark Oil Type
Inside the owner's manual you can find a reference to the oil type needed and the fill capacity. To make things easier we have a sister-site that lists the different trims of the Chevrolet Spark and the appropriate oil you need at OilType.co.