Citroën C4 Cactus Owner's Manual
---
You can find 9 different owner's manuals for the Citroën C4 Cactus on this page that are in the PDF format.
Yearly C4 Cactus Owner's Manuals
The years available stretch from 2015 through to 2023 and to view the manual you just click the name underneath.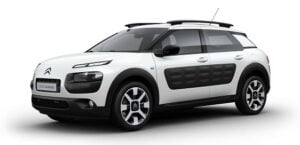 About The C4 Cactus
In 2014 the Citroën C4 Cactus was put into production using the C4 platform and adding a taller SUV-like body.
What was created would be classed as a subcompact crossover SUV (like the modern version of the Suzuki Vitara) as it lacks any off-road equipment but still has a roomy interior.
The car has many interesting features, including a "Climatic" button on the dashboard, which controls whether the driver wants their air conditioning system to be cooling or heating.
These owner's manuals for a C4 Cactus contain many valuable pieces of information, including proper tire pressure settings and what fluids to use.
Along the sides of the car are protective panels to stop the paintwork from being ruined by small dings, popular among those who frequent car parks.
Just two engine options are available for the Citroën C4 Cactus, a 1.2-liter gasoline and a 1.6-liter turbodiesel for more torque.
European models are assembled in Spain whereas those being sold in South America are put together in a plant in Brazil.
All examples of the C4 Cactus are 5-door with the engine in the front powering just the front wheels.
2018 brought the line a face-lift which added many important driver-aids such as emergency brake assist and a lane departure warning system.
With the new face-lift came a new range of trims to choose from when purchasing such as Feel, Feel Edition, Flair and Origins.
Peugeot sells a similar model called the 208 that uses the same platform and many of the same mechanical components.