Peugeot 208 Owner's Manual
---
You can find 13 different owner's manuals for the Peugeot 208 on this page that are in the PDF format.
Yearly 208 Owner's Manuals
The years available stretch from 2012 through to 2024 and to view the manual you just click the name underneath.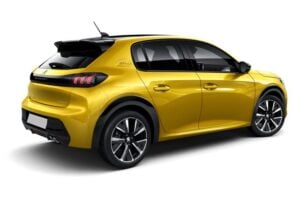 About The 208
The Peugeot 208 is classed as a supermini car and takes over from the 207 line that was originally launched in 2006.
If you own this model, then it's important to have a copy of the owner's manual for reference on how to operate your vehicle properly.
Other popular supermini cars on the market that it competes with include the Ford Fiesta and the Toyota Yaris.
208's hit the showrooms in 2012 and buyers had the choice of it being a 3 or a 5-door hatchback and found that it shared a platform with the 2008 and the Citroen C3.
Incredibly the 208 model shed over 100kg of weight in comparison to the line it took over from yet still has more interior space.
Inside the car sports a touchscreen infotainment system on the dashboard that looks like a mobile tablet device.
Technicians at Peugeot have been focusing heavily on fuel economy and this car (like most of their range) has a series of engine choices with fantastic miles-per-gallon ratings.
The smallest size engine for the 208 is a 1.0-liter 3 cylinder that can achieve 66 miles to the gallon on a highway.
Buyers can choose from a variety of trim levels when they buy the car new such as:
Active
Active Premium
Allure
Allure Premium
GT
GT Line
GT Premium
In 2019 the company revised the model and released the second generation Peugeot 208 along with an all-electric version called the e208.
Unlike most all-electric cars the e208 shares the same platform as the fuel-driven variants. The range of the electric-only version is an incredible 210 miles on a single charge.
The electric version of the 208 has far exceeded the car manufacturer's expectations and so they are currently ramping up production to meet demand.