Suzuki Vitara (& Grand) Owner's Manual
---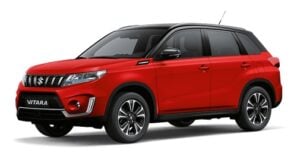 About The Vitara
The first Suzuki Vitara models hit the roads in the late 1980s in an attempt to take on the mini-SUV market.
At that time the mini-SUV market was already occupied with models such as the Jimny (also Suzuki) and the Mitsubishi Pajero Mini.
Many drivers were moving away from their heavy old SUVs like the Ford Bronco as escalating fuel prices forced them to reconsider the size of their cars.
In the late 1990s, the Vitara was redesigned as a compact SUV with a slightly larger body, more powerful engine options and improved features inside the car.
It wasn't until 7 years later that the third-generation model was introduced and once again the car was vastly re-imagined, this time it lost its off-road equipment.
This turned it into a compact crossover SUV, with poor off-road capability but with a much lighter profile and lower running costs.
These changes helped the Suzuki Vitara appeal to a wider market much like the Toyota RAV4, its main competitor at this point.
Again the car was changed in 2015 as it moved into its fourth generation, this time shrinking in size and becoming a subcompact crossover SUV.
All of these changes helped the Vitara model move with the times and it now takes advantage of the growing demand for small lightweight SUV-like cars developing worldwide.
Buying this new crossover SUV version means you get to choose from one of the trim levels on offer, such as:
S
SZ4
SZ5
SZ5 ALLGRIP
SZ-T
SZ-T ALLGRIP
SZ-T Kuro
The list of years on this page takes you to the appropriate Suzuki Vitara owner's manual and covers all of the trims in the above list, manufacturers typically only put out one document per model per year.
After 2015 the Vitara shared its chassis with many other Suzuki models including the SX4 S-Cross subcompact crossover SUV.