Ford Contour Owner's Manual
---
You can find 5 different owner's manuals for the Ford Contour on this page that are in the PDF format.
Yearly Contour Owner's Manuals
The years available stretch from 1996 through to 2000 and to view the manual you just click the name underneath.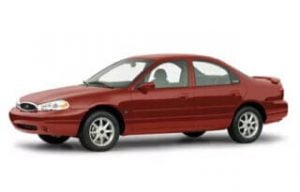 About The Contour
The Ford Contour is a rebadged version of the European Ford Mondeo that was also sold in the North American region as the Mercury Mystique.
Originally the Mondeo was a huge success for Ford in Europe and became the car that every family wanted, replacing the previous Ford Escort as the stereotypical family car.
The first generation of the car was produced from 1995 to 1999, and the second generation from 2000 to 2005.
These owner's manuals will provide you with instructions on how to operate your new vehicle in order for you to get up and running as quickly as possible.
The Contour was slightly adjusted for American markets that required slightly different interior features such as larger cup sizes.
Although the Mondeo was a larger mid-sized car in the USA it was among the smallest examples of a mid-sized car.
Across the pond, there were smaller engines that were sold in Europe such as the 1.8-liter turbo-diesel that didn't make its way across the channel, instead, the 2-liter and 2.5-liter V6 were sold.
The Contour sold for 5 years in the USA and although it was a massive hit in the European region it failed in the USA and Australia where it was quickly replaced by the Ford Fusion.