Ford Mondeo Owner's Manual
---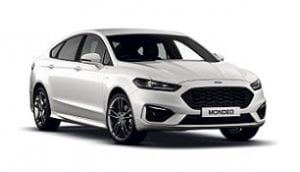 About The Mondeo
The Mondeo is a large family car first produced and sold from the year 1993 by the car manufacturer Ford. This Mondeo model was Ford's very first 'world car' and was designed to combine and replace a number of previous Ford models.
Ford wanted to align all the attributes of its other vehicles in a similar range and create one solid vehicle that could appeal to a number of demographics and their subsequent needs. The Mondeo spanned nearly 2 decades and as a result, was built on several different platforms throughout the years; the first and second generations on a CDW27, the third generation on the EUCD and the last on the CD4 Platform  – also used under the Galaxy, S-Max and the Fusion.
The first generation (sold from 1993 onwards) had a number of new technologies for the time one of which was an in-built satellite navigation system. The first Mondeos were the result of the combined efforts of Ford America and Ford Europe.
In Northern America the Mondeo replaced both the Sierra and Telstar (along with a few other Ford models), all these Mondeos were largely front-wheel drive, with the exception of the MKI which was a four-wheel drive.
The second generation sold from 2000 onwards, was a wholly larger vehicle with a notably different chassis, however, Ford were careful to keep the lines and general shape of its predecessor. Where the first generation was more rounded, a shift was made to mimic a more German aesthetic, making the edges more angular and aggressive.
A third generation shared a platform with Volvo and was displayed at the Frankfurt Motor Show in 2006. It was at this point that Ford resurrected the Mondeo in Australia (having taken a 6-year hiatus previously).
The fourth generation came out in 2012 and was showcased at the Northern American Auto Show in Detroit, Michigan. This generation ran for a decade before the 5th generation was created in 2022. However, this latest model was only sold in China as Ford decided to end the production of the Mondeo elsewhere following a continual fall in sales. Agana, as with most saloons, the Mondeo had been losing sales to the increasingly popular crossover SUVs.