Ford Crown Victoria Owner's Manual
---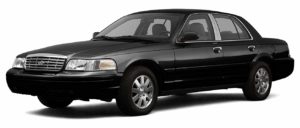 About The Crown Victoria
Over 2 generations of design the American-built and marketed Ford Crown Victoria ruled the highways.
It was a full-size sedan and replaced the previous Ford LTD Crown Victoria trim sold by the company after a switch around of naming across the range.
The Crown Victoria became its own model in 1991 and proved a popular model with domestic and law enforcement agencies until the mid-2000s as oil prices spiked.
This car was a large, heavy gas guzzler with just one option of a V8 engine with 4.6 litres of displacement that was popular in North America during the 1990s.
This page features many owner's manuals that cover important information concerning ownership of these cars – including how to do simple maintenance tasks like changing the oil or replacing brake pads yourself.
Eventually, the Ford Crown Victoria was finally discontinued in 2012 after sales didn't pick up after the big recession and the company focused its attention on the Taurus line.
You can find owner manuals on this page for the car from 1996 up until the time it was taken off sale.
The Taurus had much more economical engine and transmission options and boasted technology and comfort that was desired by the American buyer.
Crown Victorias were popular with law enforcement agencies and so Ford doubled down on this by offering a special custom-built version for this.
The "Police Interceptor" version featured up-rated parts including better cooling for the engine to cope with periods of heavy acceleration.
Many other American auto manufacturers capitalize on the dedicated police car versions such as Dodge with their Charger.