Dodge Charger Owner's Manual
---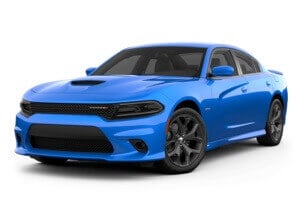 About The Charger
The Dodge Charger has been used across several ranges of cars but what most people think of when they hear the name is the muscle car.
This car started life in 1966 as a fastback design that didn't prove popular, the exterior styling was lacking in excitement to warrant the cost.
2 years later the second generation was released and the styling of the Charger was improved enough to make it a forever classic.
During this second generation, the platform was used to create the Dodge Charger Daytona, an aerodynamic muscle car legend.
The start of the 1970s saw the release of the third generation that upgraded the safety of the model and offered new trims to attract a wider range of buyers.
When the Fourth generation hit showrooms in the mid-1970s the car had seemed to morph into a luxury car rather than keeping its muscle heritage.
Another strange move for the Charger came in the 1980s when the car was again moved into a new classification, becoming a subcompact coupe economy car. The performance was high for this pocket rocket thanks to its shrinking size and turbocharged engine.
The Dodge Charger was put to sleep at the end of the 1980s before being revived in the mid-2000s just before the great recession that shook up the auto manufacturing world.
Then the newly revived Charger brand saw smaller engines and less aggressive styling as it saw in its heyday in the 1960/1970 period.
Performance versions were available of the car for those wanting it but most models were economy-focused.
However, each model comes with its own set of options that can be changed to suit your preferences or needs.
If you're interested in buying a new or used Dodge charger but don't know much about them yet, these owner's manual PDFs will answer any questions you may have.
Underneath the new Charger is a chassis that it shares with the Challenger and the 300 models by the same American auto manufacturer.
When the 7th generation hit the showroom in 2011 it seemed as though Dodge were trying to take the range back to its performance heritage.
For this new generation, you could buy the car with a variety of different trims including:
Daytona
GT
R/T
R/T Scat Pack
Rallye
Scat Pack
SE
Shelby
SRT
SRT Hellcat
SRT8
SRT8 Super Bee
SXT
SXT Plus
This car was once again a sporty muscle car with powerful engines as standard and racing features like all-wheel-drive and improved aerodynamics pulling in new and old fans.