Ford Maverick Owner's Manual
---
You can find 2 different owner's manuals for the Ford Maverick on this page that are in the PDF format.
Yearly Maverick Owner's Manuals
The years available stretch from 2022 through to 2023 and to view the manual you just click the name underneath.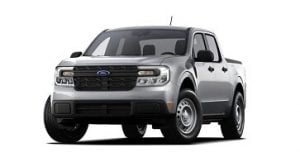 About The Maverick
You can find the Ford Maverick name in use on various models stretching back to the early 1970s.
In the 1970s, the Maverick name was applied to a compact car that was marketed in North America for just 7 years.
Over the decades since it has been used for various trims and variants of SUVs manufactured and rebadged by Ford.
Now it has been used to spawn its own line, a compact pickup truck that shares its platform with the Focus and Escape.
Being built on a road-going chassis means that the car employs a unibody construction and is lightweight compared to traditional pickup trucks.
Hyundai has also launched a similar model to this that they called the Santa Cruz, launched in exactly the same year of 2022.
Inside of the Maverick is a lot of the comfort features you would expect from a normal car, lifted right out of the Focus and Escape models.
Dominating the dashboard is a large infotainment system that runs on Apple CarPlay or Android Auto – extendable with apps.
Engine choices include a turbocharged 2-liter mated to an 8-speed automatic transmission and a 2.5-liter hybrid fitted with a CVT.
The chassis is front-wheel-drive as standard to cut down on weight but you are able to upgrade to four-wheel-drive with the hybrid version.