Ford S-Max Owner's Manual
---
You can find 9 different owner's manuals for the Ford S-Max on this page that are in the PDF format.
Yearly S-Max Owner's Manuals
The years available stretch from 2006 through to 2014 and to view the manual you just click the name underneath.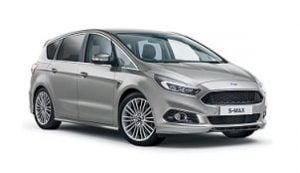 About The S-Max
The S-Max is a fairly large multi-purpose vehicle developed and produced by the car manufacturing company Ford.
Although numerous reviews and reports refer to the car as a multi-purpose vehicle, Ford was quick to correct this, determining the S-Max be classed as a 'Sports Activity Vehicle', perhaps in a bid to appeal to a more active and upwardly mobile demographic.
The S-Max debuted at the Geneva Motor Show alongside the all-new Galaxy in 2006, a car from which it takes much of its styling and layout.
This Ford Galaxy model had 7 seats which could be reconfigured in a seemingly infinite number of ways to suit the customer's needs. The S-Max in terms of size, seats neatly in between the Galaxy and the C-Max and allows for the third row of seats to not only be removed or lowered, but to actually fold flat.
The first generation had three distinct trim levels, the Edge, the Zetec and the Titanium. Looking at sales figures for the first few years, Ford quickly noticed that the Titanium (top level) made up for 60% of the sales, proving that their original intended target market were responding to the marketing. There were a number of engine configurations to go alongside the trim levels, for example, there was a 2.2-liter diesel engine capable of achieving 0 – 62 mph in under 9 seconds (a good result given the vehicle's size and fuel type). These first units excelled in the safety tests, with European NCAP awarding the S-Max 5 stars for safety. This high score could be attributed to the modern airbag installations, allowing protection for the knees and thorax, an accident avoidance system and excellent neck support.
A 2nd generation was unveiled at the Paris Motor Show in 2014, and a year later, it entered into production. The engines were changed to use the same ones that could also be found in a number of Ford's cars, namely the Galaxy, Mondeo and the Edge. These variations allowed for an option of 6-speed manual and all-wheel drive capability. At this point, Ford capitalized on their 60% sales figures for the Titanium model and added the Titanium Sport, to further emphasize its affinity to actively-minded middle-class families.