Ford Galaxy Owner's Manual
---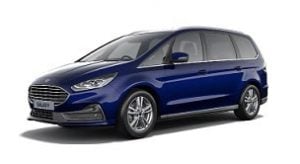 About The Galaxy
The Galaxy is a large multi-purpose vehicle that can accommodate 7 passengers built by the European wing of Ford. This was the first MPV built by Ford outside of Northern America.
This Galaxy line lasted three generations, had the same basic makeup of the Ford Mondeo and was built alongside the S-Max.
The first generation was the result of a partnership between Ford and Volkswagen which went on to create three model variations, the Galaxy, the VW Sharan and the SEAT Alhambra. All these vehicles used Volkswagen mechanics and most shared the VW 2.8-liter VR6 petrol engine (models with this engine had the option of four-wheel drive). Initially, there were only 2 trims, the LX Aspen and GLX.
2000 saw a facelift which included a new dashboard and new trims, LX, Zetec and Ghia. The second generation came out in 2006, and was a much larger vehicle. By this time Ford had sold back its stake in VW and so could no longer use the same parts or engine which led to only Ford engines. New technology included Home safe lighting, a Quick clear heated windscreen and a cooled glove box.
This new Galaxy introduced a 'fold flat' system, meaning that the rear rows of seats could fold flush with the floor to allow for much more space. This particular model is featured in the sitcom Outnumbered on BBC.
The third generation shared an engine with the S-Max and had several engines, one of which was a diesel 6-speed manual gearbox and could achieve 0-60 in under 9 seconds. 2020 saw an update with a new grille that matched their other cars such as the Mondeo, Focus, Fiesta, Puma and Kuga. Despite the upgrade, Ford made the decision to cease production in January 2022 after a successful 27 years. There was no successor or replacement offered which reflected the market demands of the time.