Ford Transit Connect (incl. Wagon) Owner's Manual
---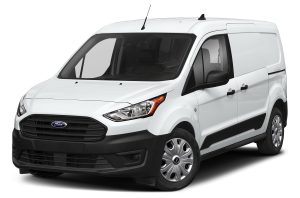 About The Transit Connect
The Ford Transit Connect is a compact panel van that has been manufactured by Ford since its release in 2002.
Since that point, Ford has released three generations, with the latest debuting in 2021. However, this third version is simply a restyled and rebadged version of the Volkswagen Caddy.
This model was released to replace the Ford Escort and Courier. This put it between the smaller Transit Courier and Transit Custom.
It features a 5-door layout typical to smaller panel vans and is propelled by a front-wheel drivetrain.
Aside from its smaller and larger siblings, it faces competition from other models like the Citroën Berlingo and Fiat Doblo Cargo. It also shares some similarities with the Volkswagen Caddy.
The latest version comes with three distinct trim options. These are the base XL, the mid-tier XLT, and the premium Titanium version.
Ford also released an electric version called the Transit Connect Electric. Other notable versions include the X-Press and Tourneo Connect. The X-Press version was outfitted with the same engine as the Ford Focus RS for increased performance, while the Tourneo version was more focused on leisure rather than light commercial work.
Engine options have decreased in size over the years to improve efficiency. The petrol engines in the latest generation range from a 1-liter EcoBoost inline-3 up to a 2.5-liter Duratec inline-4. Diesel versions consist of either a 1.5-liter EcoBlue or a 1.5-liter Duratorq TDCi. Both types of diesel are turbocharged.
Transmission options include both a 5-speed and 6-speed manual, as well as a 6-speed and 8-speed automatic gearboxes.
Ford announced the discontinuation of the model in the North American market in 2022 due to poor sales.