GMC Savana Passenger Owner's Manual
---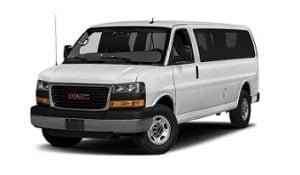 About The Savana Passenger
The GMC Savana Passenger is also marketed as the Chevrolet Express Passenger and is a style of van that seats a large number of occupants.
These models are popular for emergency services and utilities as they can use these as a base and then build a custom vehicle around them.
Tow companies and transport firms make use of these vehicles as they need to move groups of people around on a commercial basis.
Another use of these platforms is for custom motor-homes and wheelchair-accessible vehicles that require a lot of room and a strong base underneath.
These owner's manuals contain all of the information you need to know about your Savana Passenger, from maintenance schedules and fuel efficiency to safety features and troubleshooting.
They also include a complete list of standard equipment for this model year, including tires, tire pressure monitoring system (TPMS), seat belts, airbags, head restraints (active), keyless ignition/entry systems with panic alarm features.
Engines available for the GMC Savana Passenger range from a 4.3 litre V6 through to a heavy 8.1 litre V8 for demanding uses.
Transmission has always been a 4-speed automatic gearbox driving the rear wheels.
The van version was discontinued in 2014 after 19 years of service due to fierce competition from lighter European vans with more interior space.