GMC Acadia Owner's Manual
---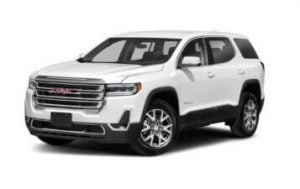 About The Acadia
The GMC Acadia is a CUV (crossover utility vehicle) that became available to customers in 2007.
These owner's manual PDFs will provide you with instructions on how to use your GMC Acadia's features and take care of it properly so that you can enjoy your ownership experience as much as possible.
This car has been through 2 generations of styling so far and during that time has switched from a full-size car to a mid-size one as the designers reduced the length by 6 inches.
Switching to the mid-sized car classifications allowed it to compete in a quickly growing market worldwide against cars like the Ford Explorer.
The original version from the 2000s shared its chassis with Chevrolet Traverse and Buick Enclave, making it very similar mechanically.
Its 8 seats and choice of front-wheel or all-wheel-drive made it appealing to a larger breadth of customers, as well as its ability to tow a large amount.
The Acadia has been designed to keep the center of gravity as low as possible in the chassis, an attempt to reduce rollovers – a common plague among truck owners.
With the introduction of the second generation model in 2017, the car quickly attracted a burst of new customers.
It was put on sale with a range of new trims to help it appeal to a larger market with options such as:
All Terrain
AT4
Denali
Limited SLT
SL
SLE
SLT
Having a reduced size meant the vehicle now seated 7 rather than 8 occupants and the price dropped in line with this change.
More fuel-efficient engine options became available for the Acadia and onboard technology helped it both on-road and off-road including the addition of a twin-plate-clutch (on some trims).
FAQ's
Q: What is the P button on GMC Acadia for?
A: The P button is used for the Park Assist feature and is active if the light behind the button is illuminated.
---
Q: Are GMC Acadias reliable cars?
A: When RepairPal surveyed owners of the Acadia they found that the average reliability of the car is just above average when compared to other similar models.
---
Q: How long do GMC Acadias last?
A: You can expect to get over 200,000 miles from your Acadia if you properly service and maintain the car.
---
Q: How do I remote start my GMC Acadia?
A: You can remote start your GMC Acadia by holding down the lock button on your key fob until the turn signal lights up and flash.
---
Q: Can you buy a manual GMC Acadia?
A: You have never been able to buy an Acadia model with a manual transmission and probably never will be able to as manufacturers move away from them in modern times.