Chevrolet Express Owner's Manual
---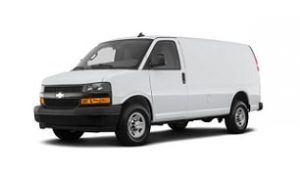 About The Express
The world of commercial and passenger vans is a surprisingly competitive one, but one in which big companies like GM and their marque Chevrolet are well-placed thanks to the Chevrolet Express. The Express was originally released as a replacement for the Chevrolet Van, and is sometimes produced now under the GMC brand, where it is badged up as the GMC Savana.
Despite being launched back in 1995 and having many variants since its first release, there hasn't been a full generational shift at all. Broadly speaking, models can be divided into two categories, firstly those from 1996 to 2002, and those from 2003 that underwent the biggest revision the model has experienced to date — though still not a generational shift.
Models released after 2003 have upgrades made to their frame and chassis, as well as getting a new windshield, and several other body styling changes. There's also a higher hood line on the newer models, as well as a redesigned dashboard, and dual-stage airbags.
Powertrain choices abound on the Chevrolet Express, depending on what model year and variant you purchase. Early models were dominated by the 4.3-liter V6 option, as well as multiple V8 engines ranging from 5-liter up to 8.1-liter. Newer models only went up to 6-liter in displacement, but the purchase of a diesel variant could see your Express powered by a 6.6-liter Duramax Diesel V8.
The Chevrolet Express was always set apart by its design features, especially compared to the Chevrolet Van predecessor. For instance, the Express saw its front axle brought forward about 10 inches compared to that of the Van, which allowed for more legroom up front, as well as easier access by lowering the step-in height.
Given the continued strong performance of the commercial and passenger van sector, it seems GM was quite prophetic in keeping these models alive.