GMC Sierra Owner's Manual
---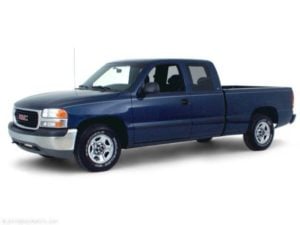 About The Sierra
The GMC Sierra and Chevrolet Silverado are built on exactly the same platform and share many of the same parts.
Both trucks were introduced in the late 1990s as a replacement for the C/K lines of full-size pickup trucks.
The Sierra is split by a definition of light-duty and heavy-duty, commonly labeled LD and HD – much like the F-Series from Ford's size definitions of F-150 and F-250.
One difference between the 2 is that the GMC version was available in an upscale version called the C3 that featured 4 wheel steer and a powerful V8.
Strangely the Chevrolet Silverado has won countless awards for being the best pickup truck of the year and the Sierra has only won 1 smaller award.
The newest generation of the Sierra features a carbon-fiber pickup bed, a 2-piece tailgate and a touch-screen console in the dashboard that the Silverado does not.
These owner's manuals on this page are very comprehensive and cover everything from the basic controls to features such as the rearview camera.
In the documents you will learn how to operate your engine correctly, including topics such as driving tips for different types of terrain and information on how to keep your engine running smoothly.
FAQ's
Q: Is the GMC Sierra better than the Chevrolet Silverado?
A: The larger price tag on the GMC version of the pickup truck exists because this model has more features as standard. The level of luxury and comfort inside the cab is also of a more superior level with more expensive materials used in its construction.
---
Q: Is a GMC Sierra a good truck?
A: Looking at the sales of the Chevrolet Silverado and GMC Sierra you can see they both regularly top the charts in the USA as some of the best-selling automobiles on the market. The GMC is slightly more upmarket with a larger price tag than the Chevrolet so it comes down to budget and personal preference when choosing between the two.
---
Q: How many miles will a GMC Sierra last?
A: According to research, the Sierra has the capability to last 300,000 to 400,000 miles when properly maintained and serviced.
---
Q: What pickup truck holds its value best?
A: According to research within the automobile market, the GMC Sierra is one of the best pickup trucks for retaining its aftersale value.