Honda CR-Z Owner's Manual
---
You can find 6 different owner's manuals for the Honda CR-Z on this page that are in the PDF format.
Yearly CR-Z Owner's Manuals
The years available stretch from 2011 through to 2016 and to view the manual you just click the name underneath.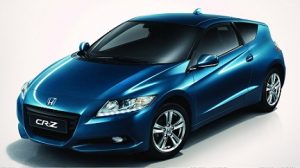 About The CR-Z
Intended as a successor to the CR-X line the CR-Z takes the sports car design and adds hybrid-engine technology.
The various CR-Z owner's manuals on this page provide information about the car, its features, specifications, and safety instructions.
The car was a 2+2 seating layout for most of the world but removed the backbench from USA customer's cars.
This CR-Z was a low pollution economical vehicle aimed at those who want a hybrid car like a Prius but with a more exciting appearance and driving experience.
The engine choices were limited to just the one, a 1.5-liter i-VTEC mated to a 6-speed manual transmission though buyers could opt for a CVT instead as an option.
Power was moderate for a car that size at 123bhp for the CVT version and 111bhp for the manual leading to a 0-100kph of around 10 seconds.
Even though it was a sports car the performance didn't reflect this though when driven economically you could expect almost 60 miles to the gallon.
The CR-Z did receive a face-lift in early 2016 updating the bumper styling and interior though this did nothing to stop it from being discontinued in late 2016 in favor of the Accord Hybrid and Clarity.