Honda Accord (incl. Acura TSX) Owner's Manual
---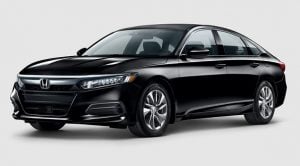 About The Accord
The original Honda Accord model can trace its roots back to the mid-1970s where it was first hit the roads as a compact car.
You are about to download a Honda Accord owner's manual, which has everything you need to know about your car.
These PDF files are free of charge and will be available for viewing online or printing out so that you can have it on hand at all times.
It was a small car with a limited range of engines and transmissions built in Japan and North America.
In 1989 the Accord eventually shifted from a compact to a mid-size car in its fourth generation of redesign and in terms of appearance resembled the rest of the Honda range.
Engine sizes were revised upwards, a station wagon version was released and production was taken place all over the world at this point.
Over the following decades since its shift to being a mid-size car, it continued to grow and serve the comfortable yet fast niche of customers.
A sports trim was introduced for the Accord called the "R" in 2002 and remained on sale until the car was updated into its 8th generation.
The R trim had upgraded parts such as better brakes and suspension for improved handling and under the bonnet lived a i-VTEC engine for sports car performance.
A whole range of trims that aren't sport-focused is also marketed for the Accord including:
DX
EX
EX-L
LX
LX Special Edition
LX-P
LX-S
LXi
SE
SEi
Touring
VP
Acura TSX
Under Honda's luxury brand Acura the Accord was also released though they badged it as the TSX and sold it in the North American region.
Engine choices for the TSX were fairly limited and all models were built in Japan and shipped across the ocean to the USA.
Customers did have the choice of the car is a sedan or station wagon though and either a manual or automatic transmission.
It was on sale under this brand until 2014 when it was replaced by the TLX range of compact executive cars.
FAQ's
Q: What does an owner's manual tell you?
A: The owner's manual is a document that used to be included as a physical copy when you purchased a car. Now the automobile manufacturers tend to publish it as a PDF and make it available online. Inside the manual will find guides on how to properly and safely operate the vehicle.
---
Q: Will the 2021 Honda Accord be redesigned?
A: The front-end of the Honda Accord is being redesigned to allow a radar sensor to fit inside it that will add adaptive cruise control to the automobile. For some of the more premium trims, the Accord will also feature LED-powered headlights.
---
Q: Is the Honda Accord coupe being discontinued?
A: The 2-door Accord coupe version was discontinued when the tenth-generation model was introduced in 2017.
---
Q: Why did Honda stop making the accord?
A: In some markets, the Honda Accord is being discontinued as consumer tastes switch away from coupe and sedan models to crossover SUVs.
---
Q: Is the Honda Accord a good car?
A: The Honda Accord has proved to be a popular car, achieving massive sales in North America and regularly appearing in the top 10 cars sold each year in that region alone. Honda vehicles are known for their reliability and value for money due to efficient manufacturing techniques.