You can find 10 different owner's manuals for the Kia Rondo on this page that are in the PDF format.
Yearly Rondo Owner's Manuals
The years available stretch from 2007 through to 2017 and to view the manual you just click the name underneath.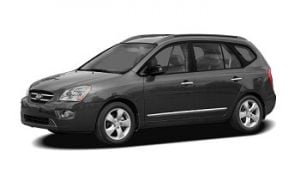 About The Rondo
The Kia Rondo nameplate started in 2006 as the Kia Carens (as it was originally called and is officially known in some territories still).
These owner's manuals cover the basics of operating your vehicle: how to get in and out, how to start it up, what controls you'll find on the steering wheel and dashboard, emergency procedures such as calling for help or putting out a fire.
Essentially everything you need to know about basic maintenance like checking tire pressure or changing windshield wiper blades.
It's a compact MPV known for begin sporty, spacious and smart according to marketing efforts by the South-Korean automobile manufacturer.
With the 2nd generation of the Kia Carens in 2006 came a name change to help market the car in the lucrative North-American and other English-speaking markets.
It was marketed as a way for customers to get a minivan style of car without the large size and expensive running costs associated with it.
In 2013 the third-generation model of the Carens and second generation of the Rondo was released to the public.
This new version of the car featured new economical engines and a range of transmissions to make the most out of the power.
Sales of the Rondo were restricted in North America after the poor sales of the previous generation although some models were sold in Canada.
The Kia Rondo line was finally put to rest in 2019 when production was halted, buyers were more interested in the exploding compact SUV market.
Buyers are being diverted to the Sedona model that is still in production and being sold in the USA.