Kia Optima (K5) Owner's Manual
---
You can find 22 different owner's manuals for the Kia Optima (K5) on this page that are in the PDF format.
Looking For Mechanical Information?
An owner's manual is usually packed with guides on how to operate the car safely and how to maintain it.
If you require mechanical information (for fixing the car yourself for example) then you may need a workshop, service or repair manual instead.
Kia Optima (K5) Service Manuals »

Yearly Optima Owner's Manuals
The years available stretch from 2011 through to 2024 and to view the manual you just click the name underneath.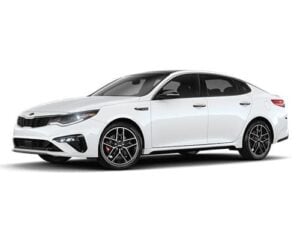 About The Optima
The Kia Optima is more commonly known as the K5 now in regions such as North America though was also sold as the Magentis in Europe.
It's a mid-size sedan that first entered the market back in the year 2000 as the Optima, though it was essentially a rebadged Hyundai Sonata.
The exterior of the Optima was different from the Sonata and the interior equipment included as standard varied too.
Poor safety ratings and a less than stylish appearance led to the car selling in low units targeting the lower-priced end of the automobile market.
The owner's manuals on this page are a valuable resource when you need to know how to use your new car or troubleshoot problems that may occur during ownership.
In the PDFs, Kia talks about the features of your vehicle and provide detailed instructions on what to do in case of an emergency.
When the second generation model hit showrooms in 2005 buyers found that it was built on a Kia-specific platform rather than relying on Hyundai.
Crash safety ratings were considerably better than before and paired with a wider range of engines and transmission sales increased slightly.
With the introduction of the third-generation Kia Optima (2010) the nameplate changed to the K5 across Asia.
The styling of the new model was considerably sleeker and again safety ratings were pushed way up to a 5 out of 5 star average with new economical engines added to the roster.
Alongside this release came a cool new 2 litre turbo-charged gasoline sport version and a hybrid drive-train option to capture lost energy during braking.
Over the next decade, the fourth and fifth-generation improved on the model range and sales rocketed to 4 times the average of what the car was sold in its first generation.
The fifth-generation Optima is available with one of five trims such as EX, LX, Premium, S, SE and SX when bought new.