Kia Soul (incl. EV) Owner's Manual
---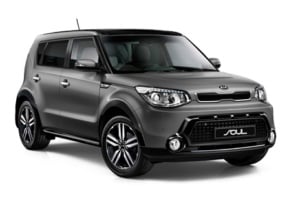 About The Soul
You will recognize the Kia Soul from the distinctive shape that it has maintained through its life since its release in 2008.
The original design was based on a boar (the animal) wearing a backpack sketched by the designer which is evident when you look at a photo of the car.
The Soul is a great car for people who want to drive something that is stylish and different.
If you are the proud owner of one, then you will find these owner's manual helpful in learning more about your vehicle's features.
It's a subcompact crossover SUV that is assembled all around the world and sold in every region.
Other popular subcompact crossover cars on the market include the Chevrolet Trax and the Mazda CX-3.
Engine options have always been smaller displacement but on-par for what you would expect from a car this size.
Lots of special edition models of the Soul have been produced by the South Korean automobile manufacturer over the years.
The Denim, Dragon, Tiger and Flex have all added new exterior and interior styling and features such as alloy wheels and leather seats.
"Flex" versions of the Kia Soul allow the driver to use any mix of gasoline and methanol fuel (consult the owner's manual for your car).
In 2014 the Kia Soul EV was introduced to markets as an all-electric car also known as the e-Soul.
For the most recent generation of the electric version the range exploded to 243 miles from the original 93 it could achieve back in 2016.