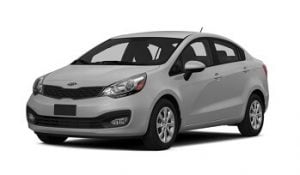 About The Rio
As a replacement for the aging and out-of-style Pride and Avella lines the Kia Rio was introduced.
These owner's manuals will go over some important information that you should know about your Rio before setting out on your journey.
It's a subcompact car with the option of having 3 or 5 doors in a hatchback or a 4 door sedan/station wagon layout.
An engine in the front drives the front wheels and buyers can choose from a range of modern automatic and manual transmissions.
From the second generation model that came into production in 2005 buyers found that the platform underneath was the same as the Hyundai Accent.
Nowadays the car shares a platform with several popular Kia's including the Soul and the newer subcompact crossover SUV the Stonic.
The joint venture between the 2 South-Korean automobile-manufacturers saw the Rio line improve greatly, especially in terms of safety and fuel economy.
That partnership has lasted for many years since and the 2 companies co-operate on the models as well as several other lines such as the Kia Stinger/Hyundai Genesis.
Over the years and generations of redesign, the car has grown slightly but with improvements in safety ratings and comfort features, it seems to be worth it.
For the most recent version of the car (fourth-generation released in 2017) buyers have enjoyed a much better fuel economy and along with power available at the foot.
When ordering this modern version of the car you can choose from one of five trims including:
Another exciting development for the recent version is the inclusion of a super-mini trim: with a 1 litre engine capable of producing 118bhp.