Kia Stonic Owner's Manual
---
You can find 6 different owner's manuals for the Kia Stonic on this page that are in the PDF format.
Yearly Stonic Owner's Manuals
The years available stretch from 2018 through to 2023 and to view the manual you just click the name underneath.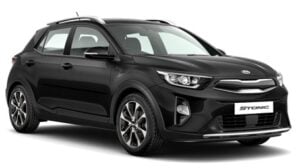 About The Stonic
Production of the Kia Stonic began in 2017 and underneath the car, you can find the same platform used under the Kia Rio and Kia Soul.
It is classed as a subcompact crossover SUV like the Soul model but this one is wider, lower and overall smaller.
Customers can choose from one of four engines, ranging from a turbocharged 1-liter gasoline option to a 1.6-liter turbodiesel.
Transmitting that power to the front wheels is done so by either a dual-clutch, manual or automatic transmission.
In China, the car is sold as the KX1 and is slightly different in terms of styling and features.
Safety ratings for the standard car aren't so great according to Euro NCAP who awarded it just 3 out of 5 stars when they crash-tested it.
If you upgrade your model to include the optional safety pack then Euro NCAP claims the car is improved to the point it is awarded 5 out of 5 stars.
You can find out the individual safety features that are included with the car by flicking through the official Kia Stonic owner's manuals on the list to the left.
If you are interested to learn about the various features offering in the trim levels you can learn about those too, their are plenty to choose from when you buy a Stonic:
2
3
4
Connect
First Edition
Maxx
Mixx
Inside each yearly manual, you will find in-depth explanations on how to use each feature with visual diagrams to help understand them better.