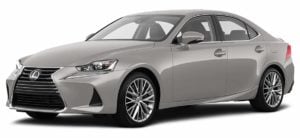 About The IS
In the late 1990's Toyota released the new Lexus IS model to the world as a more performance-focused line, smaller than previous vehicles released by the auto manufacturer.
These owner's manual guides will teach you about the safety features, maintenance and repair services, and general operation of your Lexus IS.
Toyota marketed the car under its own brand as well with fewer luxury features under the badge Altezza.
Initial engines available in the first generation ranged from 2 litre to 3 litre and 4 cylinders to 6 cylinders.
These engines could be mated to a 4 or 5 speed automatic or a 5 or 6-speed manual transmission.
With the release of the second generation in 2005 the IS range Toyota decided to stop marketing it under their own name as well (possibly to protect its luxury car status).
Engine options were steered towards performance with a 2.5 litre V6 at the bottom end of the range and a 5 litre V8 at the top of it (IS F sport). A 2.2 litre turbo diesel was also introduced for those looking for an economical version.
Transmission options were also improved with a 6-speed manual to choose from or a 6 or 8 speed automatic.
When the third generation hit showrooms the Lexus IS range jumped up another notch and gained a hybrid option and a lot of new technology.
Adaptive Variable Suspension and Variable Gear Ration Steering propelled the IS range into the future and attracted buyers looking for a high-end luxury car.
An eCVT transmission was introduced with the hybrid trims and an option for a smart four-wheel drive to improve the power getting to the road.
Alongside the hybrid version you can also buy the following trims for your new IS:
Advance
Executive Edition
F-Sport
Luxury
Premier
SE
Sport
The IS received a face-lift in 2020 for the 2021 model year including important connectivity capability for Apple and Android devices.