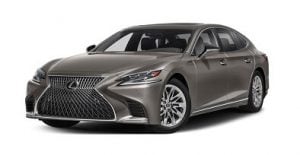 About The LS
Built as a full-sized luxury sedan, the LS was manufactured by the luxury branch of Toyota, Lexus.
Initially available only with a V8 engine and rear-wheel drive, the LS had numerous configurations throughout its life including an all-wheel drive option, different wheelbase lengths and a hybrid model.
The first generation began sales in 1989 with critics reporting that the first design sketched looked like something out of the Jetsons. Intended to be Lexus' flagship vehicle, the LS wanted to project 'world-class luxury' for an international market and, given the name 'F1 Project,' there was very little constraint given meaning that there was no real budget or time frame.
Showcased at the Northern American International Auto Show in Detroit, the LS featured a low boxy front end with a sharp angled profile. As one of the first cars to have a tilt and telescopic steering wheel with SRS side airbags and power-adjusted seatbelts, the LS could seat up to 5 people, unlike the Lexus SC, making it popular for single businessmen or families alike.
In 1994, Lexus released the second generation, this time the vehicle had a longer wheelbase, kept the angular aesthetic and added a 4-liter V8 engine that was capable of producing 260 bhp. Better brakes were fitted and the overall weight was lowered by nearly 210 lbs. Dual climate control was optional along with a rear cupholder and in-dash CD players.
By the time the third generation went into production in 2000, the LS had a completely new design. A sloping bonnet adorned the front, doing away with the boxy image, and to keep the luxurious feel, Lexus modeled the seats on ones found in First Class British Airways planes. After a few more updates, by the 5th generation, Lexus changed the platform to the GA-L platform and designed the vehicle to compete directly with the BMW 7 Series, Mercedes-Benz S-Class and the Jaguar XJ.