Lincoln Town Car Owner's Manual
---
You can find 14 different owner's manuals for the Lincoln Town Car on this page that are in the PDF format.
Yearly Town Car Owner's Manuals
The years available stretch from 1998 through to 2011 and to view the manual you just click the name underneath.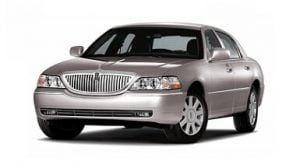 About The Lincoln Town Car
The Lincoln Town Car ran from 1980 through to 2011 as the company's full-size luxury car.
Before 1980 the term "Town Car" was used by the company to describe its limousine style body types and later as trim levels.
The first generation Town Car (when the nameplate was used for a model of its own) used the Ford LTD Crown Victoria (the predecessor of the Crown Vic) Panther platform as a base.
It replaced the long-running Continental as the company's new full-size car after being a trim for the model previously, the Continental dropped down to become a mid-size car for this decade.
You could buy it as a 2-door or 4-door and only had one choice of engine, a 4.9-liter V8 mated to a 4-speed automatic transmission.
With the move into its second-generation design in 1990, the car switched over to the newer Ford Crown Victoria platform.
Engine and transmission options were still non-existent but thanks to advancements in technology both safety and comfort were improved drastically.
Finally, in 1998 a third-generation Town Car came onto the scene still based on the Ford Crown Victoria chassis and with limited drivetrain options.
A new curved appearance helped the car enter into the new Millenium along with a DVD player fitted with surround sound inside the cab.
With many sedans in the recent decades, the Town Car was seeing sales slow down gradually each year.
In the 2011 model year, the last of the models were sold and Lincoln did not plan on replacing the model with any other line.
Instead, those seeking limousines from the company (which seemed to be the biggest use for the car in the final few years) were forwarded to the MKT model.