Maserati Levante Owner's Manual
---
You can find 6 different owner's manuals for the Maserati Levante on this page that are in the PDF format.
Yearly Levante Owner's Manuals
The years available stretch from 2017 through to 2022 and to view the manual you just click the name underneath.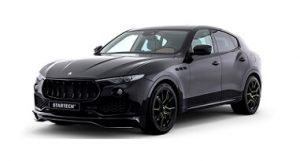 About The Levante
The Maserati Levante is the company's first attempt at a luxury SUV. It combines the power and luxury that the Italian automaker is famous for, leading to a well-rounded SUV that sits very competitively within the market.
Under the hood of the Levante is a V-6 with two turbochargers. This produces 350 horsepower, which is sent to all four wheels via an automatic gearbox. The Levante will accelerate from 0-60 in just over 5 seconds, which beats some tough competition from the likes of BMW and Mercedes.
However, the performance of the Levante is not without its flaws. Whilst the sporty suspension helps the car to impress drivers on the track, in the real world it can feel awful. Unless you're driving over the smoothest tarmac, you will feel every single bump and mark on the road. You'll probably need back treatment in a few months after driving the Levante it's that bad!
Inside the cabin, the Maserati name does not fail to disappoint. Drivers will be greeted by a rich trim of full leather and wood, which feels extremely expensive. There are also some subtle chrome accents on the dials and around the rest of the cabin, which elevate the style of the Levante.
Unfortunately, a focus on style means that practicality is somewhat compromised. Carry capacity isn't bad, but when compared to other, cheaper SUVs on the market (such as the Audi Q7 and VW Touareg), the Levante leaves a lot to be desired. It should be more than enough for everyday use though.
As for infotainment, the Maserati Levante is as packed as any luxury SUV. As standard, drivers will receive an 8.4-inch touchscreen infotainment centre. This is one of the sharpest touchscreens on the market, featuring great graphics and a fast response time. Beyond this, the Levante is equipped with a 17-speaker system.