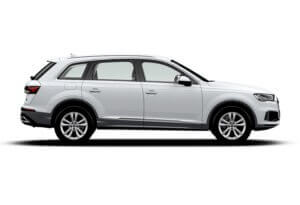 About The Q7
Introduced in 2007 the Audi Q7 is a mid-size (originally a full-size) luxury car built by the German car manufacturer.
It has 7 seats, 4 doors and all models are full-time four-wheel drive – with all trims covered in the Audi Q7 owner's manual for each year listed on this page.
Shortly after the successful launch of this car the company introduced the smaller Q5 and then a few years after that the even smaller Q3.
Underneath the car potential customers may be surprised to find out that the platform is shared with the Bentley Bentayga, Lamborghini Urus and Volkswagen Touareg.
Although the Q7 is not intended for off-road use (as is evident by a lack of off-road features) the car has actually performed well in tests by motoring publications.
Many of the standard features included with the car are for the comfort of the occupants such as the self-leveling suspension and continuous damping control.
Sales of the car have grown year-on-year as demand increases in the SUV market although every car manufacturer is releasing a model targeting it.
The Q7 has always scored brilliantly during safety tests with Euro NCAP awarding it 5 out 5 stars for every generation of release, rare for such a tall vehicle.
From 2008 through to 2012 a hardcore version of the car was introduced with a 6-liter V12 twin-turbo-diesel engine capable of catapulting the heavy car to 60 miles per hour in 5.5 seconds.
Modern engine choices for the SUV range from a more sensible 2-liter turbo petrol for Chinese markets through to a high-performance 4-liter twin-turbo diesel V8.