Mazda CX-30 Owner's Manual
---
You can find 5 different owner's manuals for the Mazda CX-30 on this page that are in the PDF format.
Yearly CX-30 Owner's Manuals
The years available stretch from 2019 through to 2023 and to view the manual you just click the name underneath.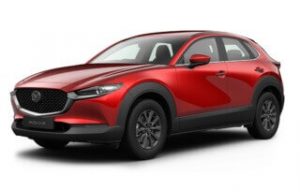 About The CX-30
Slotting in between the CX-3 and the CX-5, the Mazda CX-30 is classed as a subcompact crossover SUV.
The CX-3 is also in the same classification as this car but is slightly smaller by about 3~ percent.
It's aimed at those in the USA starting a family or who are single and require a bit more space than its smaller sister model according to the designer.
These owner's manuals go over some of the features and functions of this new vehicle as well as provide you with safety information for both yourself and those around you when operating your CX-30.
Mazda avoided the name CX-4 due to an already existing model of theirs using that nameplate in China.
Production of the car began in 2019 and the first 2020 model years were delivered in early 2020 in North America although UK customers got theirs at the end of 2019.
IIHS rated the car good for most tests but it did fall back on headlights, even on the most premium trim on offer.
The trims that are on offer on the most recent models include:
GT Sport
GT Sport Tech
SE-L
SE-L Lux
Sport Lux
EuroNCAP scored the car 5 out of 5 stars with it only falling back slightly on the safety assist tests as it lacks the drive-aids offered by premium models on the market.
Among the engine choices is a hybrid option branded e-Skyactiv-X by the company who claims it can push well over 50mpg.