Mazda CX-5 Owner Manual's
---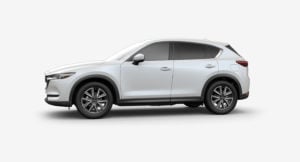 You can find 9 different owner's manuals for the Mazda CX-5 on this page that are in the PDF format.
The years available stretch from 2013 through to 2020 and to view the manual you just click the name to the left (or above if viewing by mobile).
About The Mazda CX-5
First built in 2012 but not delivered to customers until 2013, the Mazda CX-5 was a replacement for the compact crossover SUV the Tribute.
The platform that the CX-5 is built on is the same as the Mazda3 and Mazda6 and has all of the same features such as SkyActiv technologies.
The engine choices available to customers are fairly limited though this model is marketed as a fuel-efficient alternative SUV to the gas guzzlers.
Transmission is fairly limited, you can either have a manual or automatic but are stuck with 6 gears – satisfactory for today's modern cars.
This car was featured by many magazines and publishers as a green car and it was a runner-up for several awards.
The original version was among the models that CX-5 released sporting a completely new way of styling for the brand called Kodo.
A face-lift of the CX-5 came in 2016 just before the second generation's release and brought with it improved exterior styling as well as inside the instrument cluster and warning lights were revised.
The second-generation model was released in 2017 and with that came a more performance-focused trim (2.5 litre turbo gasoline) which isn't as environmentally friendly as the other versions.
Buyers are able to choose to have the car in a fixed 2 wheel drive drive-train or a 4 wheel drive one. The availability of these drive-trains is restricted in some territories.
The sales of the CX-5 have steadily increased as the years have gone by and the positive safety ratings have helped push those sales further.
Mazda CX-5 Oil Type
Inside the owner's manual you can find a reference to the oil type needed and the fill capacity. To make things easier we have a sister-site that lists the different trims of the Mazda CX-5 and the appropriate oil you need at OilType.co.