Mazda CX-3 Owner's Manual
---
You can find 8 different owner's manuals for the Mazda CX-3 on this page that are in the PDF format.
Yearly CX-3 Owner's Manuals
The years available stretch from 2016 through to 2023 and to view the manual you just click the name underneath.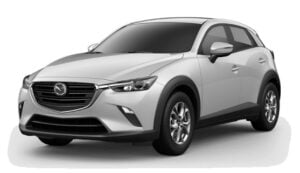 About The CX-3
The Mazda CX-3 is a subcompact crossover SUV built in Japan and Thailand and exported all over the world.
These owner's manuals will help you understand how your vehicle works so you can enjoy it for years to come.
You just pick the appropriate model year for your version of the car and then load up the PDF.
It competes with other subcompact crossover SUVs like the Chevrolet Trax and the Nissan Kicks.
Production began in 2015 and straight away buyers were able to choose from 1 of 4 engines, 2 gasoline and 2 diesel units on offer.
Transmission choices are limited though with a 6 speed manual or automatic gearbox on offer powering the front or all wheels if desired during purchase.
Underneath the car is built on the same platform as the Mazda2 and the Toyota Yaris, both small hatchback cars.
The Yaris chassis was also used as a basis for its own crossover SUV version called the Yaris Cross, launched in 2021.
For the 2018 model year, the CX-3 received a face-lift that brought almost every element on the exterior up to date with the rest of the Mazda range.
Choice of trim was reduced right down to just 3 options, Grand Touring, Sport and Touring.
The handbrake was replaced with an electric one in the 2018 update from the original manual one in the center console.
Sales are good for the model with about half of them taking place in the European region, helped by the numerous awards won by the car.
Awards given to the car include "Car of the Year" and "Best SUV" along with many that focus on the car's design pre-face-lift.