Mazda Mazda6 Owner's Manual
---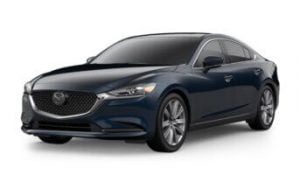 About The Mazda6
The Mazda6 model is a mid-sized sedan known as the Atenza in Japan and China with initial production starting in 2002.
This is said to be the most popular model that Mazda has ever produced and it could be down to the new styling that the company tested on this release before the rest of their range.
Mazda put together these PDF versions of the owner's manuals for your car
You'll find instructions on how to maintain your car and what you can do in an emergency situation so that you know what to do when things go wrong with your Mazda6.
First-generation models of the Mazda6 were available with a wide range of engines, from 1.8-litre petrol through to 3-litre petrol mated to a wide range of manual or automatic engines.
Underneath the original was built on the same platform as the company's mid-size SUV the CX-9.
The car evolved through 3 generations of design although the choice of the engine on the newest release is slightly restricted to a 2 or 2.5-litre petrol or a 2.2-litre diesel.
You are able to get hold of a 2.2-litre turbo version though to add a bit more oomph to your drive.
Choosing a trim from the long list of them does allow some customization at least, with badges such as:
Carbon Edition
Grand Touring
Grand Touring Reserve
i
i Grand Sport
i Grand Touring
i Sport
i Sport Value Edition
i SV
i Touring
i Touring Plus
s
Signature
Sport
Touring
The newest version also has the choice of a 6 speed automatic or manual gearbox and either a front-wheel or a fixed four-wheel powered drive-train.
The 2009-2010 models were recalled in 2011 due to a problem with spiders getting into the fuel line setting off warning lights due to them laying eggs and blocking them.