Mazda CX-9 Owner's Manual
---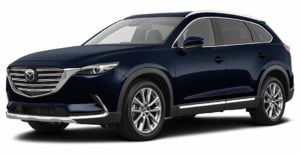 About The CX-9
The Mazda CX-9 is a mid-size crossover SUV built in Japan for the American market and in Russia for the local market.
These owner's manuals will help you better understand your CX-9 and what it can do for you.
It is very important that you read your appropriate manual before operating your Mazda so that all of its features are clear to you.
Due to the strict taxes in Japan based on the size of the vehicle the car isn't sold there.
Instead, the CX-8 is the largest crossover SUV that the Japanese auto manufacturer sells in its own territory.
Production began in 2006 and was based on the Ford CD3 platform shared with the Ford Fusion and Ford Edge models.
Powering the car was also a Ford 3.5 litre V6 engine mated to a 6-speed automatic transmission.
With the introduction of the second-generation Mazda CX-9 in 2016, the platform was swapped with that of the Mazda3 and CX-3 to name a few.
The shift to the new platform has led to many benefits for the SUV such as a reduced weight in both front-wheel-drive and four-wheel-drive versions as well as an increase in fuel economy.
Added safety equipment as standard in the second generation CX-9 includes blind-spot monitoring, radar cruise control and lane-keep assist.
Tailoring this safety and comfort equipment fitted to your model of car is done through choice of trim, with the options being:
Carbon Edition
Grand Touring
Signature
Sport
Touring
Many awards have been presented to Mazda for the car especially in disciplines such as "Best SUV" and even "Car of the Year".