You can find 4 different owner's manuals for the Mazda MPV on this page that are in the PDF format.
Looking For Mechanical Information?
An owner's manual is usually packed with guides on how to operate the car safely and how to maintain it.
If you require mechanical information (for fixing the car yourself for example) then you may need a workshop, service or repair manual instead.
Mazda MPV Service Manuals »

Yearly MPV Owner's Manuals
The years available stretch from 2003 through to 2006 and to view the manual you just click the name underneath.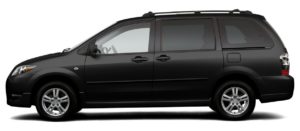 About The MPV
The Mazda MPV model line became first available in 1988 when the auto manufacturer wanted to create a people carrier exclusively for the American market.
Originally the car was a rear-wheel-drive with an optional selectable four-wheel-drive mode but this was changed to a front-wheel-drive drive-train to save weight.
The off-road technology in the first generation allowed the driver to switch differentials at different points of the car though these features were scrapped as Mazda found most buyers were not interested so much in leaving the road.
For a visual guide on the warning lights that may appear for the car and especially the complex 4WD system check out the relevant chapter in the owner's manual.
The second-generation MPV released in 1999 saw the manufacturer focus towards more on-road luxury features (like comfortable leather interiors and DVD players – in 2004) and safety (side airbags etc.).
Engine choices through the decades that the Mazda MPV has been on sale had expanded and then shrank with the most recent release, buyers can now only choose a gasoline or diesel 2.3 litre engine.
Transmission choices have also been limited since 1999 when only 1 automatic option was available though this isn't really an issue for the North American car buyer.
The most recent generation was discontinued from selling in the USA  and Europe in 2006 and now the car is made in Japan and China for that half of the world.
This MPV was finally replaced in the 2 main Western markets by the CX-9 crossover SUV from Mazda.