Mazda MX-5 Owner's Manual
---
You can find 4 different owner's manuals for the Mazda MX-5 on this page that are in the PDF format.
Looking For Mechanical Information?
An owner's manual is usually packed with guides on how to operate the car safely and how to maintain it.
If you require mechanical information (for fixing the car yourself for example) then you may need a workshop, service or repair manual instead.
Mazda MX-5 Service Manuals »

Yearly MX-5 Owner's Manuals
The years available stretch from 2020 through to 2023 and to view the manual you just click the name underneath.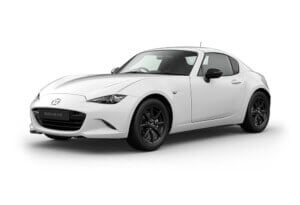 About The MX-5
Introduced as the successor to Italian and British roadsters of the 1950s and 1960s the Mazda MX-5 first went on sale in 1989.
These owner's manuals cover the history of the vehicle as well as provide information about maintenance, safety features and specifications.
The idea of the MX-5 is that it's a simple car that's both lightweight and affordable while being fun to drive.
It went on to sell over half a million units by the year 2000 earning it the title of best-selling 2 seater sports car in history.
By mid-2016 the car hit the one million sales record and continues to sell well as the model is refined and improved on each generation.
Other automakers have attempted to create popular affordable 2-seater coupes such as the joint Toyota-Subaru project the 86.
Currently, the MX-5 is selling in its fourth generation that started production in 2015 and had a face-lift in 2018.
This 2018 and onward model is available with one of the following trims installed:
Launch Edition
SE-L Nav
Sport Blac
Sport Nav
Sport Tech
The most major change to the model with this latest generation is the retractable fastback roof version that folds away into the boot.
You can also find the latest Mazda MX-5 underneath the Fiat 124 Spider and Abarth 124 Spider with slight adjustments made to the suspension, engine and design.