You can find 3 different owner's manuals for the Toyota 86 on this page that are in the PDF format.
Yearly 86 Owner's Manuals
The years available stretch from 2017 through to 2019 and to view the manual you just click the name underneath.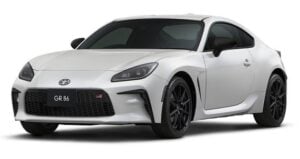 About The 86
The Toyota 86 is a sports car manufactured by Toyota Motor Corporation. The company produces the vehicle in collaboration with Subaru.
Owners of this vehicle need to know how to use it correctly, which is why they should have a copy of the owner's manual at all times.
These manuals contain information about the safety features and specifications of the vehicle in great detail so that owners can enjoy their time behind the wheel in a safe manner.
The car started out as a joint project between Toyota and Subaru, this led to the motoring world seeing the birth of the 2+2 fastback coupe car 86 and BRZ.
These cars have quickly gained a name for themselves as being lightweight sports cars that act great as a base for Motorsports such as drifting and rallying.
The 2 manufacturers worked together on the platform and engine but the interiors were handled by the companies differently.
Each car offered by both manufacturers featured a co-developed 2-liter 4 cylinder boxer engine mated to a 6-speed manual or automatic transmission.
In the United States, the Toyota 86 is also sold under the youth-focused Scion badge as the FR-S.
The car has won many awards from publications such as Car of the Year 2012 and Best Affordable Sports Car.
You can see the Toyota 86 in many different Motorsport disciplines thanks to the car's affordable price and great performance stats as standard.
Sales of the 86 have dwindled over the years after peaking in 2013 as well as the Subaru versions which have also suffered the same fate.