Mazda Tribute Owner's Manual
---
You can find 10 different owner's manuals for the Mazda Tribute on this page that are in the PDF format.
Yearly Tribute Owner's Manuals
The years available stretch from 2001 through to 2011 and to view the manual you just click the name underneath.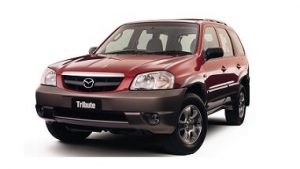 About The Tribute
The compact SUV Mazda Tribute had been in production between 2000 and 2011 until it was replaced by the superior Mazda CX-5.
This move came when Mazda decided that the boring image that the Tribute had acquired needed freshening up and so the more exciting CX-5 range was pushed instead.
It's always a good idea to keep your car in top shape by making sure that you're getting the most out of it.
With the owner's manual, you'll be able to do just that, these PDFs have everything from maintenance and safety tips for driving, to information about how various parts work and what they do.
It also includes an illustrated section about each type of tire and its specifications.
First and second Generation Tributes
First-generation Tribute's had the option of a 2.3 litre 4 cylinder engine or 3 litre V6 engine, it could be mated to a 5-speed manual or 4-speed automatic transmission.
Then, second-generation Tribute's had the additional option of a 6-speed automatic transmission but engine sizes remained pretty much the same.
You could choose from one of a variety of different trims for your model including:
DX
ES
Grand Touring
i
i Grand Touring
i Sport
LX
s
s Grand Touring
s Touring
A hybrid option was also available in the later Tribute, introduced in 2009. This option brought with it an increase in miles per gallon of 1 which failed to wow customers and so the hybrid option was dropped in less than a year.
Cost-saving measures were implemented in the second series Mazda Tribute as a way to help sales by reducing the price but the lack of appeal that the car drew made it hard to sell.
In Asia, the CX-7 took over from the Tribute as the next best SUV that Mazda was selling there. The smaller displacement turbocharged engines appealed more to buyers in the emerging markets due to taxes imposed on large engines in cars.