Mazda CX-7 Owner's Manual
---
You can find 7 different owner's manuals for the Mazda CX-7 on this page that are in the PDF format.
Looking For Mechanical Information?
An owner's manual is usually packed with guides on how to operate the car safely and how to maintain it.
If you require mechanical information (for fixing the car yourself for example) then you may need a workshop, service or repair manual instead.
Mazda CX-7 Service Manuals »

Yearly CX-7 Owner's Manuals
The years available stretch from 2007 through to 2012 and to view the manual you just click the name underneath.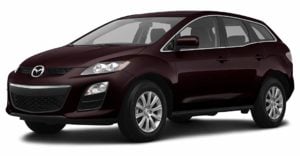 About The CX-7
The Mazda CX-7 was a mid-size crossover SUV that first went on sale in early 2006 until the last model rolled off the production line in 2012.
There are some things that are not readily apparent when checking out the brochure or browsing on the Mazda website.
If you're looking for more information about the CX-7 then make sure to check out the owner's manual.
A range of various manuals are listed on this page separated by model year to make it easy for you to find the right one.
This CX-7 range was eventually replaced by Mazda with the CX-5 model which sports a much more modern and stylish appearance.
Originally the car was slightly narrower with the choice of a 2.3 turbo or 2.5 NA gasoline or 2.2 litre diesel engine mated to either a 5 or 6-speed manual or automatic transmission.
The CX-7 was a bit of a Frankenstein's monster as it was built from sections of other Mazda's, such as the rear suspension of a Mazda5 and the front suspension of the Mazda MPV Minivan.
To keep up with the evolution of the rest of the Mazda range of cars a facelift version was released in 2009 improving the instrument cluster with its warning lights.
When ordering the car new customers could choose from a list of trims that helped tailor the car based on budget, options include:
Grand Touring
i Sport
i SV
i Touring
s Grand Touring
s Touring
Sport
Touring
The face-lift version of the CX-7 brought with it the new stylish grille seen on the rest of the revised Mazda range and new technology features such as blind-spot monitoring and Bluetooth compatibility.