Mercedes Benz CL-Class Owner's Manual
---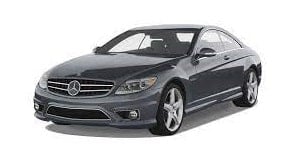 About The CL-Class
The CL-Class lends its name to a line of grand tourers built by the German car manufacturer Mercedes-Benz between 1992 and 2014. 'CL' stands for 'coupe leicht' (or coupe light) and is widely considered Mercedes' premium model.
Initial models were sleek and modern for the time, but still retained the 'long thin and fairly boxy' aesthetic of the early 1990s. Following numerous testing and reviews by a number of magazines and shows, the CL's engine, the M119 5-liter V8, was named one of the best engines ever produced by Mercedes.
2000 saw the second generation of the CLs enter the market, with a shorter wheelbase and similar underpinnings of the W210 and W211 E-Class. Four model variants were available, the V8 CL 500, V8 CL55 AMG, 2000 NA CL55 AMG F1 and 6-liter V12 CL65 AMG. The latter two models were limited editions, with shockingly few manufactured.
There were only 55 CL55 AMG F1's created as one of the main safety vehicles for Formula One. In all versions, Mercedes-Benz loaded the CL with technology and features to include, a factory-fitted voice activate phone system, moonroof, heated front seats, satellite navigation system inbuilt into the dashboard, CD players, trip computers, fully leather interiors and climate control. There was even a computer-aided feature that distributed weight and power across the vehicle to aid in sharp corners.
Final versions of the CL rolled off the production line in 2006 – 2014 in its final and third generation. Mercedes really changed up the styling which resulted in a dramatic sleek, aggressive design. Following on from the second generation, Mercedes continued to add brand new technological features, one of which allowed the vehicle to automatically remain a safe distance from the car in front to prevent rear-end accidents.