Mercedes Benz GLA Owner's Manual
---
You can find 7 different owner's manuals for the Mercedes Benz GLA on this page that are in the PDF format.
Yearly GLA Owner's Manuals
The years available stretch from 2017 through to 2023 and to view the manual you just click the name underneath.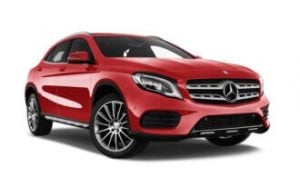 About The GLA
First starting production in 2013 the Mercedes Benz GLA range of subcompact luxury crossover SUVs are built and sold all around the world.
If you are a proud owner or are looking to purchase this vehicle, you will want to refer to these owner's manuals for all of your informational needs.
These manual PDFs include detailed instructions about how to operate your car smoothly through turns, maintain proper distances from other vehicles when driving and other subjects.
Other subcompact luxury crossover SUVs include the Buick Encore and the Audi Q3.
It has so far been through 2 generations of design with several performance-orientated trims being released such as the AMG versions.
The car is also marketed by Nissan under its luxury badge in America as the Infiniti QX30 with a slightly different exterior styling.
Original models came with the option of a gasoline or diesel engine ranging from 1.5-liters through to 2.1-liters mated to a 6-speed manual or 7-speed automatic engine.
In 2014 the 45AMG trim was put on the market with its sport suspension, speed-sensitive steering and high-performance braking systems. Along with the up-rated equipment in the car, the much larger engine also pushes 355bhp to the wheels.
In 2020 the GLA entered into its second generation of design increases the size of the car slightly as well as the power output of the engines.
The transmission options stay roughly the same adding 1 new gear to each. The AMG trim gains an additional 30 or so brake horsepower in the later generation as well as an electric option being announced for the car too.