Mercedes Benz C-Class Owner's Manual
---
You can find 12 different owner's manuals for the Mercedes Benz C-Class on this page that are in the PDF format.
Yearly C-Class Owner's Manuals
The years available stretch from 2012 through to 2018 and to view the manual you just click the name underneath.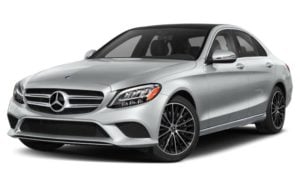 About The C-Class
The Mercedes Benz C-Class has always been the automobile-manufacturers range of luxury compact cars.
These owner's manuals will cover the basics of how to use the vehicle and get the most out of it.
You will also learn about what accessories are available for your car and as it's a Mercedes-Benz there are plenty of them.
Introduced in 1993 the model was intended as a replacement for the aging 190 series and helped align the name badges of the entire Mercedes-Benz range.
Potential buyers of the larger E-Class were finding it hard to justify the running costs associated with a larger car in a time of higher fuel prices, they were flocking to compact cars.
You can see this move in action as the compact Toyota Corolla became the world's best-selling car within just a few years of this model being released.
Customers of the original model in the early 1990s could opt for a sedan or station wagon with the addition of a fastback-coupe being added in 2000.
The fastback-coupe version eventually branched off and became its own line called the CLC-Class for a year in 2011 before switching back to being a C-Class.
Original designs for the luxury compact car were produced in the mid-1980s when the company realized they needed a smaller car to appeal to the mass automobile market.
Testing began in 1989 and production began in 1990 though customers would not see the car until the 2003 model year.
With the instant success of the model, the second generation's design process was started in the mid-1990s and customers got delivery of them in 2000.
A wider range of engines was available for customers including gasoline and diesel along with newer technologies to help achieve great fuel economy.
Newer generations were designed and released with the fourth (released in 2014) being the current for today's models.
The latest generation of Mercedes Benz C-Class embraces aluminum and high-strength steel in order to reduce weight greatly.